As you know, each Winter Welcome Box comes with an exclusive Poncho Wrap from SiiZU — take a look at all of the ways you can wear and style it!

Afternoon Out
Whether it's coffee with a friend, celebrating a half day at work, or when you just want to spruce up something basic, this poncho will do the trick. In this photo I have my Amour Vert denim button down on, sustainably made in the USA, paired with my necessary black leggings from Pact Apparel, where their entire selection is fair trade and organic. I topped it off with my Yellow 108 hat, made from recycled materials, to pull in the deep gray shades in the poncho. A simple necklace will add a glimmer to any outfit, I chose one from GLDN, where they are consciously hand-made.

A Little Active
Why not add some flair to your comfier active wear? It's easy with Beyond Yoga leggings, made ethically in the USA, because the texture of the pattern goes well with the plaid on the poncho. All you need to do is throw on a ribbed shirt from Known Supply and your favorite sneakers from Veja to finish off the comfiest, but most darling outfit.
Keep Warm
As temperatures drop so does the ability to wear a poncho outdoors, but this poncho is so versatile that it can also be worn as a scarf! Its soft fabric is great for keeping toasty while storming the cold with your Patagonia jacket.
Simple Coloring
Putting a darker shade under this light-colored poncho is sure to make it pop! The dynamic tones will play off each other and collaborate nicely. The trim on the poncho goes well with a gray top, mine is from Known Supply, a fair-trade apparel company. I wanted to bring all the colors together, so I grabbed a necklace to highlight the pink, it is from Purpose Jewelry where they empower people who have escaped human trafficking through jewelry making.
Sunshine Funshine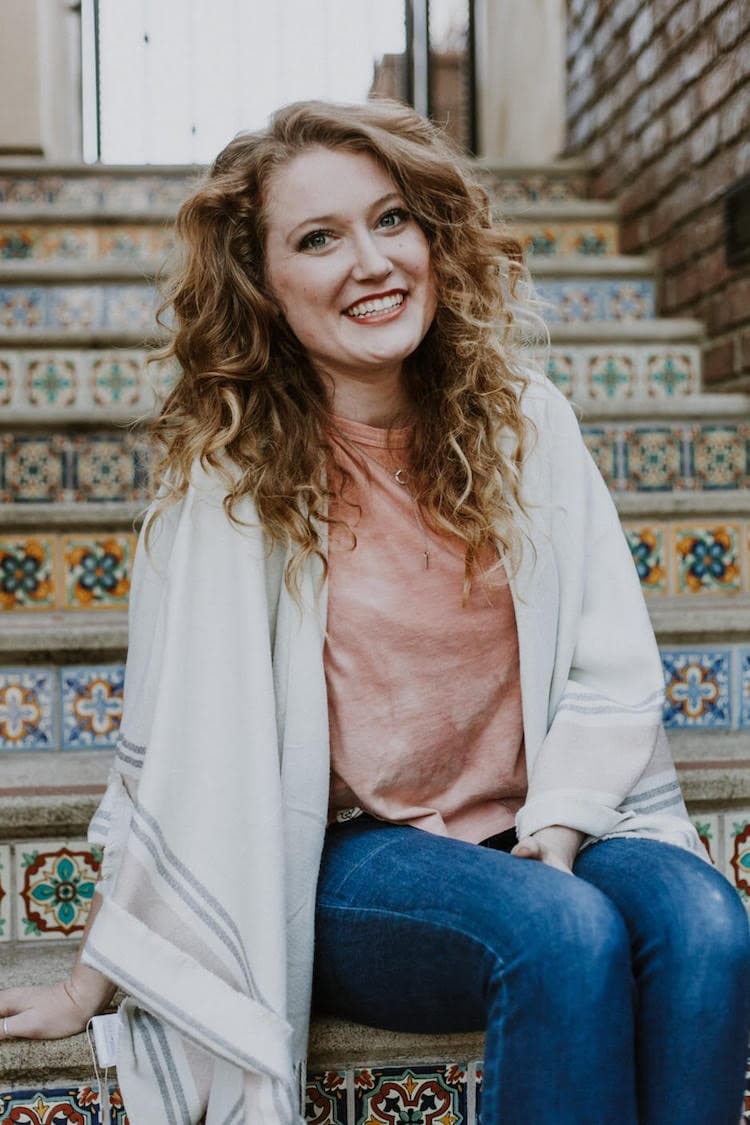 When the weather outside is not so frightful, take a book outside to read! This outfit reminds me of the sunshine's warmth and I adore it. I wanted to make a brighter look, so I added a shirt from Pamut Apparel, handmade sustainably in small batches in North Carolina. It brings out the stripe on the poncho and ties the outfit together. I paired it with a necklace from Purpose Jewelry and my favorite heels from TOMS- a wonderful combination.
Dazey Days
This look is a bit more sassy with the velvet and bright colors, but the warmth could brighten anyone's day. The shirt I am wearing is from Dazey LA, a female empowering brand that promotes love and equality in a retro and fun style. They go with the high-waisted pants by Prarie Underground, sustainable clothing made in Seattle. A fun hair bun is only complete with a headband by I'm With The Band, all made in LA. To make the outfit pop, add some earrings by Soko. Their designs are stellar and are all crafted in Kenya to help people create a life for their families. TOMS are not only super comfy, but they lace the look together with the color they bring.
Fancy Friday
This poncho's versatility is incredible, it can be dressed up or down easily! Here I have a dress from Maven women, it's simple but the silhouette is flattering to any body type. One thing I love about this dress company is that they encourage people to vote for a better world with their wallet, every piece is ethically made and sustainably produced. A dainty necklace from the Starfish project, empowering human trafficking survivors with jewelry crafting, is the perfect piece of bling for a fancy Friday.
Girl's Day
The poncho can absolutely make an outfit a brilliant combination of colors when you find the perfect balance. A casual black dress from Shop Trove, ethically made with dignity and delight, can be made into a staple with the pairing of this poncho. Remember those earrings you received in your Winter Causebox? Bring those darling, dangling earrings out for some fair trade love. TOMS has really come in clutch with their heels, they match everything! Finish off the look with a bag from 31 Bits, it's big enough to carry the essentials, and stylin' enough to go with any outfit, not to mention that they are made by artisans in Bali!
---
Want more from Emmy?
Check out her: Instagram
Read her: Blog