8,000 Trees Planted (with One Tree Planted)
This spring we went a little crazy for trees.
After multiple recent wildfires devastated our home state, we felt moved to plant trees (8,000 of them!) and begin the process of renewal and reforestation.
One Tree Planted is the perfect partner for our vision. The international charity has streamlined the process of sourcing and planting tree saplings, and has gotten costs as low as one dollar per tree. Trees have a local and global impact by creating healthy ecosystems, filtering pollution, and creating clean oxygen. Forests regulate temperatures, the water cycle, and the balance of gases in the atmosphere. The science behind trees is substantial, but they also have a much more personal impact.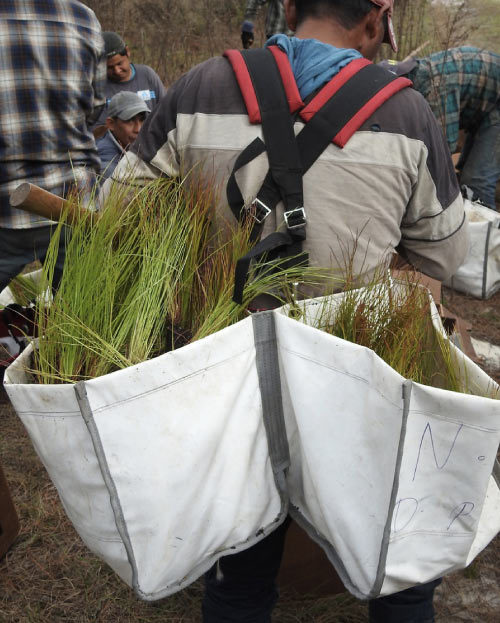 In wildfire-ravaged areas in California, the physical scars on the landscape are jarring. Chimneys are all that remain of people's homes and entire neighborhoods and forested areas are now barren. Healthy forests protect our wild places from the conditions that create uncontrollable fires and healthy trees make us feel at home in our surroundings. It will take a lifetime to heal the communities damaged by the fires in California this year, but planting trees is an undertaking that we firmly believe will help restore our state. Without trees, the landscape is a constant reminder of the fires and the affected areas are at high risk for mudslides, another destructive and potentially deadly natural disaster that often strikes in the wake of wildfires.
Our box curation team was looking for the perfect Cotton Macrame Plant Hanger for the Spring Box, so that we could share our plant obsession with the CAUSEBOX Community this spring. When we couldn't find exactly what we were looking for, we decided to design the perfect macrame hanger ourselves through our in-house brand, Altru, and use the proceeds to support the work of One Tree Planted. We also wanted to get involved ourselves — and since we couldn't get the whole team up to Northern California to work in the areas that were most affected by the fires, we decided to work locally and plant trees in our own community in Los Angeles! It was an amazing day — and in the future we'll be inviting our local CAUSEBOX Community members to come alongside of us and help create the change we want to see!