Connecting Worlds Through Fashion
Tribe Alive is a longtime favorite partner of CAUSEBOX. Their fashionable designs and incredible commitment to transparency and artisan relationships turned us into fast friends, and the reversible clutch we collaborated on is an exclusive design that truly highlights the collaborative relationship between a talented team of artisans in India, the Tribe Alive team in Texas, and our product team at CAUSEBOX. We spoke to founder Carly Burson from the company's new storefront + headquarters in Fort Worth about the clutch, the artisan empowerment dynamic, and, of course, our dogs.
Carly explains the process of designing and creating the clutch, which moved from sketches to color swatches to sample products with uncommon ease, "When we received the first samples and were blown away. Sometimes it takes a lot of back-and-forth to get custom designs dialed in, but these artisans have grown to be some of the most confident and talented women we've ever worked with."
If you can imagine, the process starts with phone calls, Skype sessions, and emails between CAUSEBOX and Tribe Alive, deciding on our vision for the clutch and selecting colorways and patterns for each version. Then, Carly communicates with her artisan team leader, Jyoti, in India to share the design and vision behind the clutch.
She continues, "It's connecting worlds. Getting on a Skype call and talking through tassel colors, and catching up on life, and getting the right shade of pink! Jyoti telling us she's got it, and us holding colors up to our computer screens and cameras and comparing and trying again until we both see the same color!"
This level of personality and attention to detail shows in every product Tribe Alive offers. "Jyoti is the production manager, a woman running her own design house in India, which is almost unheard of. She is a boss and a lot of the time she puts us in our place—and she's always right! I love her story, how hard she works, how passionate she is." The design and manufacturing process is truly collaborative, and it blends the best of everything that every member of the teams has to offer.
This mutually beneficial relationship extends far beyond the obvious: "There's a mutual exchange of craftsmanship and education about the taste and preferences of the global consumer and integrating artisan techniques with modern designs. We are just one part of teaching them about getting large orders running smoothly, nailing the details, and consistently executing large orders—that is how workshops scale and become truly successful, both with us and with whoever else they work with in the future."
The clutches they produced exclusively for the summer CAUSEBOX were a big hit with the artisans, who are always marveling at the ways our tastes and designs interact with their manufacturing processes.
"Jyoti and her team are loving this order, they're always sending me text messages about how much they're loving the design, the materials, the process of making these clutches. What's more—this is probably the first large order we've completed with them where there have been zero issues or complications. So it is amazing to see how far they have come as a holistic production house, a talented design firm, and a group of empowered women who are breaking social norms and learning new skills and lifestyles."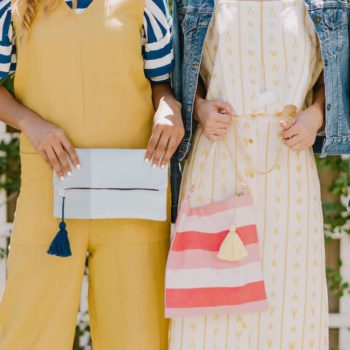 A big part of artisan empowerment in India goes beyond quality working conditions and fair trade pay. It is about redefining cultural norms and inspiring women and men alike to understand what is possible in their own communities and in the global economy. This is central to Tribe Alive's ethos, and it is one of Carly's favorite aspects of her job, "It's so exciting that large teams of artisans—including a lot of men—are seeing that women are running things."
As for the clutch itself and the collaboration between brands and artisans, Carly is equally enthusiastic: "What we love about this clutch and this collaboration is that it's another design that we've done exclusively with CAUSEBOX. And that we got to work with Hannah and bring her vision together with the design and vision from Katie here at Tribe Alive to create something unique from both us and CAUSEBOX."
Speaking to the truly personal details behind the clutch and the ways it is directly impacting the culture in Jaipur, Carly shares one last story, "Late last Saturday night, Jyoti sent me a picture of her husband Raj (a successful wedding planner) cutting fabric for clutches, and she says, 'It's slow season for Raj and I've put him in the design studio and now he's a master cutter.'" Your clutch just might have some expertly-cut fabric from Raj himself.
---
Learn more about Tribe Alive: