Forty-Nine Great Questions
49 Great Questions is a collaborative effort between the CAUSEBOX team and several of our most intentional friends and role models. Carry these in your purse, enjoy them with dinner or dessert, or pack them in the car on your next road trip—no matter how or when you use them, we promise that they will help you more meaningfully understand and connect with the people in your life, and nothing can be more important than that.
_________
The idea for 49 Great Questions first formed itself about a year ago, on a road trip. I was driving across the state of California, from North to South, after a weekend in the snowy Sierra Nevada mountains for New Year's. The car was filled with some of my closest friends. It was getting late, and in an effort to prevent the person who was at the wheel from having to drive while everyone else slept, someone suggested that we stay awake by going around the car and answering each person's "favorite question." Oddly enough, someone was prepared with a question, so she went first:
"What makes you feel the most alive?"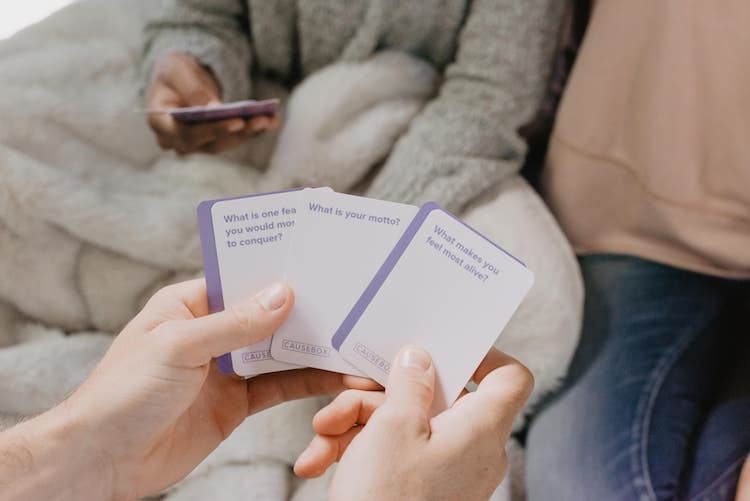 It is a question that cuts straight to the core of a person — what is the thing that brings you the most joy, that makes you feel your humanity, that makes you feel the most yourself. It can be interpreted in several ways, but it always reveals truth and fosters sincerity, openness, and trust. That question alone led to a 45 minute conversation. I learned new and meaningful things about the people I thought I knew best — and I learned a lot about myself.
Another person asked: "What was one of the best gifts that you received as a child? And why was it so special?" Again, 30 minutes of reminiscence and rich conversation. I sifted through old memories and remembered things from years and years ago. Again, I learned things about myself and about people that I already knew so well.
When it was my turn to ask my "favorite question" — I couldn't think of something, I had never thought about it. I found myself wishing I had a list full of great questions with me — and that the seven hour car ride could last even longer. We pulled out our phones and started digging around on the internet for more "great questions," and we found a few more that carried us through the rest of our road trip. That car ride stayed with me. It brought me so much closer to people I cared about, and it was all because of a few questions, some free time, and a willingness to be thoughtful and intentional.
So for the past year I've been asking around, asking strangers, mentors, friends, everyone — "What's your favorite question? What question do you love to ask people when you really want to get to know them?"
The rest of the CAUSEBOX team helped and we narrowed it down to 49, after an incredible amount of thought. I hope that you find these questions as stimulating and thought-provoking as we have, and that they even help you understand yourself better. I hope that you ask them and answer them, again and again, with new friends, old friends, spouses, dates, family, and neighbors — because I really do believe that great questions and great conversations help us understand each other better, and that the empathy that follows can help each of us feel the most alive.
At CAUSEBOX, we're really passionate about connection. At the heart of everything we do is the connection between all of us at CAUSEBOX, all of our subscribers, the brands we feature, and ultimately the artisans behind the amazing goodies in every box. Each issue of Good News is centered around the stories that bring your box to life, so we can connect with the goodness and humanity behind every product.
With our 49 Great Questions, we hope to bring that connection to life beyond the confines of Good News. These are questions you can ask anybody in your life—we guarantee you will learn something new about your best friend, parents, kids, date, spouse, neighbor on the subway, whoever you decide to talk to! We spent months soliciting suggestions from our favorite writers, speakers, and conversationalists, testing and tweaking the questions, all with the goal of providing 49 Great Questions for you to ask anybody.
In an era that makes it harder than ever to connect with friends, strangers, dates, and neighbors, we hope to share some of our favorite questions that help you get to know friends new and old better than ever before.