Shattered Ceilings & Glass Ladders
Megan Larsen founded Glass Ladder & Co. to bring some much needed style and femininity into the women's business casual fashion world. And she does it all with an infectious dose of confidence and charisma. We caught up with her to learn more about how she does it! Megan starts, "Glass Ladder & Co. is named after the symbolism of 'shattering the glass ceiling.' We not only strive to climb above it, but we strive to serve as the vessel in which other women can feel empowered and encouraged to follow suit."
She explains her origins in the fashion industry, "I was always interested in fashion. When I first graduated from college I worked for a fashion and beauty PR Firm. When I was a kid I used to pretend I had my own clothing line named 'If Only.' When my parents bought my sisters and I a sewing machine one year, I started cutting up the clothes I didn't like anymore and sewing them back together to make something new."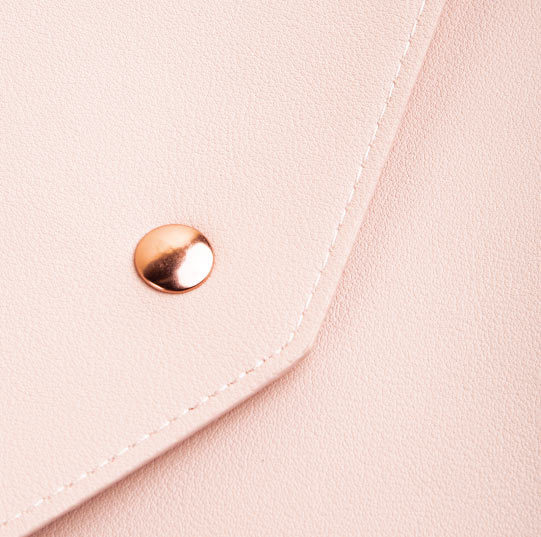 It was my mission to create something that allowed women to be professional, stylish, and empowered all at the same time.
Larsen describes the moment that led to Glass Ladder & Co., "When I first thought of the idea for GLC I was working in marketing. I was so frustrated with the lack of professional women's accessories — I felt like they were all very masculine or outdated. Decades ago, it was a faux pas to wear pink in the corporate world, and although this is totally acceptable now, I feel like so many women feel pressured to sacrifice their personal style to keep up a professional image."
"I knew I never wanted a traditional job and that I wanted to be able to have an impact on others, it just took me time to find my true calling. It became my mission to create something that allowed women to be professional, stylish, and empowered all at the same time." The Megan Portfolio Clutch in your Spring CAUSEBOX is made of vegan leather and blends trendy fashion and conscientious design. Larsen explains the materials and thoughtfulness behind the clutch, "As a business owner, I feel like I have a responsibility to make conscious choices. Businesses have such a large-scale impact on the environment, and it's so important to be aware of the impact you're making (whether positive or negative)."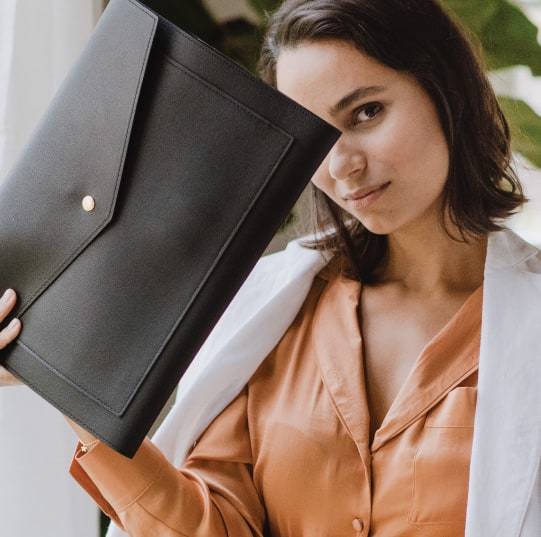 "Cowhide leather has three times the negative environmental impact of its synthetic alternatives, such as PU Leather and vegetable leathers. You won't be able to notice a difference in quality between our high-end, PETA-approved leather and the real leather, but you'll feel much better about choosing environmentally-conscious products that don't harm any animals in the making!"
Vegan leather is made from a variety of different materials, each one resulting in a different texture, thickness, and usage. Glass Ladder & Co. avoids the most harmful artificial leathers while experimenting with several vegan leathers such as polyurethane, microfiber, and vegetable or fruit leathers to find the highest-quality, lowest-impact animal alternatives available.
Glass Ladder & Co. is a brand that supports women and the planet through word and action. Megan concludes, "We stand for women who want to be seen, make a difference, and be treated equally. Women's equality has come a long way but there is definitely still room to grow. This is the era of shattered glass ceilings that don't stand a chance against our ladders to the top, of women finding equal ground in the workplace, of the female entrepreneur or executive. The future is female and this era is ours."