LSTN: The Power of Hearing
LSTN co-founder Bridget Hilton knows the power of hearing. Music and sound gave her early life much of its beauty and meaning, and it led her to create and run an amazing brand that creates beautiful looking and sounding headphones and speakers and delivers the gift of hearing to people around the world.
Bridget shares the impact sound had on her early years, "I worked in the music business from the time I was legally able and it shaped everything about me, from where I lived to who I knew and what I did outside of work. I did everything from working at concert venues in Detroit, writing reviews for newspapers, working in the mailroom, traveling to record stores around the country putting up posters, and eventually working with some of the biggest artists out there at Universal Music Group and Warner Music Group in Los Angeles. It certainly was a great life experience, but I always felt something was missing."
After an impressive career in the music industry, Bridget felt the call to connect her passion for art and sound with something far more impactful than even the most poignant music and lyrics. She remembers, "I saw a video on YouTube of a woman hearing for the first time, and it really got me thinking about how music has impacted my life and how I would be a totally different person without it. I thought about all of these new (at the time) companies like TOMS and Warby Parker that were giving various things to people in need and after seeing this incredibly impactful video, wondered why more people weren't talking about hearing, which is such an integral part of life."
After seeing the video, Bridget started researching charities that focused on hearing. "I found Starkey Hearing Foundation and immediately fell in love with what they were doing all around the world. A few weeks later my business partner Joe and I contacted SHF and then flew to Asia to start working on our first headphone product. We wanted a quality, design-friendly product that was accessible to a mainstream market and wasn't a "pity" purchase or a one-off charitable version of a regular brand. We truly wanted social enterprise to be ingrained from day one."
She notes, "The Starkey Hearing Foundation was the inspiration for creating LSTN." This story is a unique one: a pre-existing charity resonated with an industry expert who used her experience to create a brand that would support it in every facet of business. "Since inception, we've donated to SHF for every product sold, including 100% of our partnership with Delta Air Lines. Since then we've traveled the world with their team on planes, trains and automobiles to places like Peru, Sri Lanka, Uganda, Dominican Republic, Indonesia, Kenya, Rwanda, Mexico, China and all over the U.S. Their work is truly impressive and we're in awe of how much of themselves they give to others, particularly the founders Bill and Tani Austin who are our heroes and never fail to amaze us!"
When asked about the practical implications of hearing loss and deafness, Hilton explains, "The ability to hear is something we truly take for granted. According to the World Health Organization, 466 million people around the world have debilitating hearing loss. In developing countries, children with hearing loss and deafness rarely receive any schooling. Adults with hearing loss also have a much higher unemployment rate. It really affects their entire lives, and a lot of it is preventable or treatable! We've seen many children hearing their mother for the first time, and many elderly people come alive after hearing for the first time in many, many years."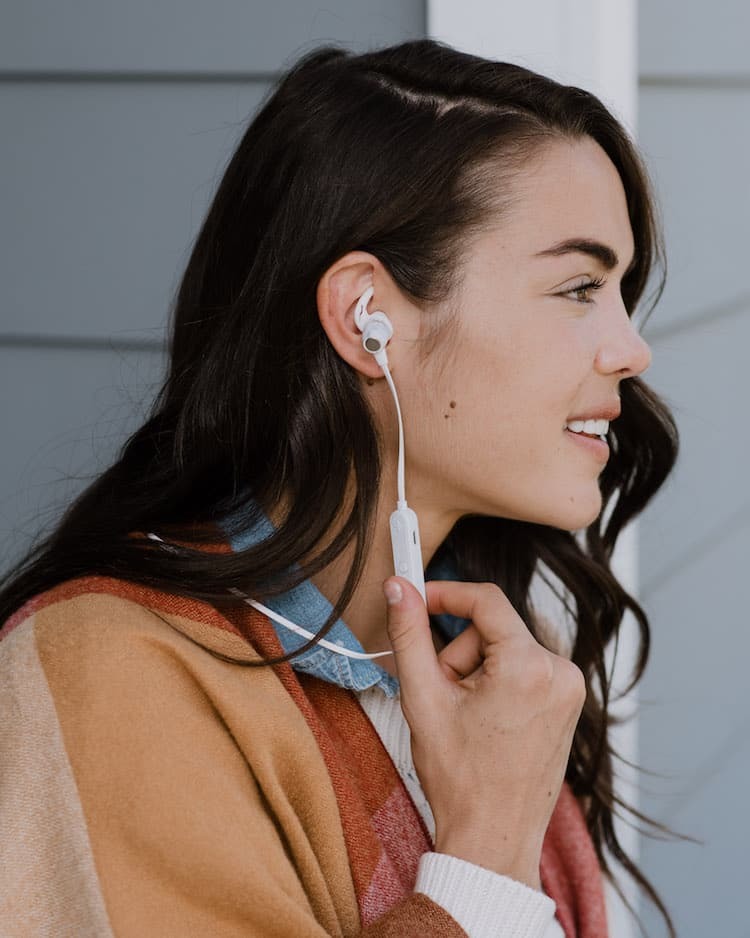 As a lifelong music enthusiast, Bridget lights up and says, "One of our favorite things to do on missions is play music for people hearing for the first time. It's pretty incredible to see the reactions and what they respond to."
She continues, "One patient that sticks out to me is a young lady named Maria from Peru, since it was our very first person we ever got to help. She had never heard before, and her mother helped her travel many hours by bus to see if they could get help. It was Maria's 18th birthday, and we were able to get her hearing in literally two minutes. Her mother was sobbing with joy. We were too."
Hilton continues in reflection on the places her mission has taken her, "Our lives are defined by experiences. Looking at my possessions, nothing is as important as what my heavily stamped, tattered passport represents. Travel expands our awareness and perception. It deepens bonds with people we love. It forces us to step outside our comfort zone and face our fears which ultimately changes who we are."
As for the products, there is a thoughtfulness in their sonic and material sciences that makes LSTN headphones stand out in their own right. "We started with all wood products to offer something different and now we've done metal, recycled plastic, and are working on making products from marble, leather, and cloth. It's exciting for us to work with new sustainable, design-centric mediums and I look forward to seeing what we come up with next. Electronics, sustainability, and philanthropy don't typically go together unfortunately; but we try and bridge that gap!"
She continues, "I always thought philanthropy was a walled garden filled with thousand dollar tables and black tuxes, something reserved for the super elite and wealthy, and I certainly wasn't that. Seeing the first social enterprise brands and the rise of B-Corps really made sense to us as a way to include everyone – buying things you'd already buy, but just the better version that helps others. Every purchase you make is a chance to vote with your wallet. Businesses make what we demand; it's a new age of consumer activism. You can increase your global impact easily by purchasing from companies that are doing good in the world."
---
Learn more about LSTN: