I met Carly at Avoca Coffee in Fort Worth, Texas—home of her company, Tribe Alive—and, coincidentally, my hometown. There is something infectious about her energy even in the search for a stranger in a busy room.
We dive right into conversation about the coffee shop, then the coffee scene, then the city of Fort Worth. My other favorite café in town is owned by an old friend, and Carly quickly mentions that his wife is a member of her small, passionate team at Tribe Alive. The conversation goes this way for a while—small-world connections and raving appreciation for the laid-back, holistic charm of 'Cowtown,' the official nickname of Fort Worth. 

Finally, after a solid hour of waxing poetic about friendly people and surprisingly nuanced cultural dynamics, I have to ask the question. 
"So, how'd you end up here?" 
And that is where Carly's passions, her circuitous life story, Cowtown, and CAUSEBOX all intersect. When her husband was offered an opportunity to move to Fort Worth for work, the couple decided to try it out and leave New York City behind. She would still work her major fashion job, and commute back to the city once per month. Over time, being further away from New York and its fast-paced expectations, gave her the creative freedom to form a small business alliance with a charity collective in Honduras. She wanted to connect her heart's desires and her fashion experience to create a series of wins for the artisans she employs in Central America, and consumers in the United States. Tribe Alive was formed, though it remained a side project that Carly ran in her spare time while also raising a child, caring for a dog, and working as a full-time Visual Designer and Merchandiser whose home office was in New York, 1,600 miles away. Still, the constant travel and dramatic contrast between her two home bases began to give her ideas about how she could better use her time and talents. 
It wasn't until CAUSEBOX called some three years ago wondering if they could order enough bracelets for all of their boxes that she received the much-needed push to take a leap of faith. "Matt actually called me and asked if we could make enough bracelets for all of their members. I was wondering how he found me and at the same time knew that the only way I could say yes to his order was to quit my job and make Tribe Alive my full-time baby." 
Nearly four years later, she is still running Tribe Alive, which has grown from a passion project to a brand that expresses its founding principles more clearly every day. That's not to say that the journey has been easy, but she maintains that the decision was. "I work more now than I ever did before, but it also never feels like work. Right now, you and I are having coffee, but we're both working, and this is so fun! Whether I'm solving a potential crisis or visiting our employees in Honduras or Guatemala or Haiti or India, I am always doing exactly what I want to be doing."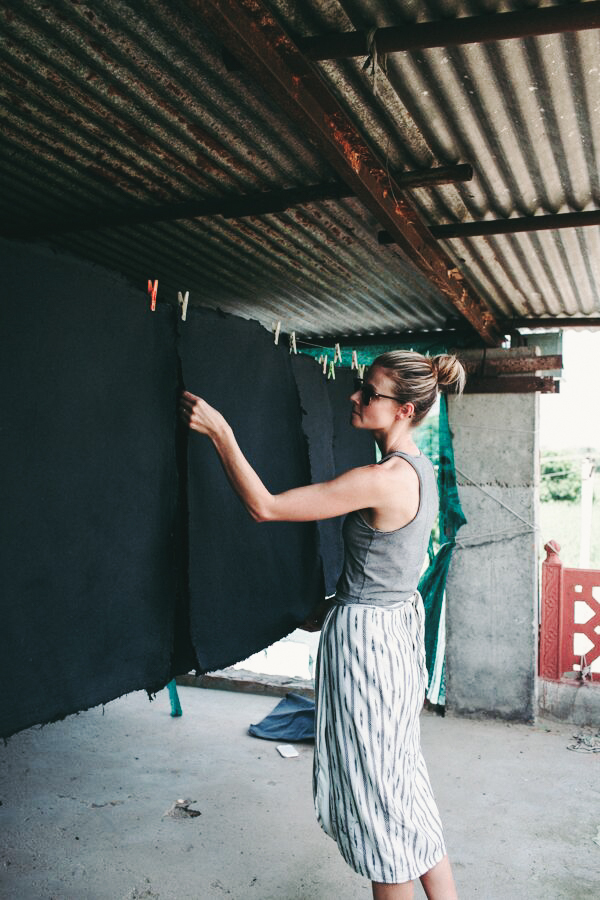 We discuss the way Tribe Alive has grown from a passion project to that first big bracelet order for CAUSEBOX, to where it is today. The path isn't always easy, but it's always edifying—and she places unwavering emphasis on her employees. She describes how organically the talented artisans in Haiti and India joined the Tribe Alive team and I marvel at the ease with which she makes this big world feel small and personal. "It's easy to get tempted to grow quickly and say we employ 1,000 people," she says, "but I'd rather employ 100 people well." And because she feels so much more like a friend than someone I'm interviewing professionally, I struggle to ask the right follow up questions. But it doesn't matter—she can tell by the light in my eyes that I really want to know what happens next. Plus, we've already agreed about the best tacos and ice cream in Fort Worth, so we've established a nearly-telepathic rapport. 
I prepare to ask what employing people well entails, and she's already answering.
"In America, we have cool, trendy companies being named 'top places to work' just because they offer break rooms with yoga studios or classes that enrich their employees' life skills or give better-than-average maternity leave." To Carly, these aren't amazing workplace perks limited to the Googles and Apples of the world, they're givens that should apply to major American corporations and fledgling social enterprises alike. "We partner with incredible organizations who do the same things, but that doesn't necessarily make us charitable, it just means I want to take good care of the people that I work with." She is adamant that she doesn't offer up benefits from a place of misguided charity but rather from a place of basic, global necessity. 
I'm nodding enthusiastically, completely engrossed in her ideas on how to run a business that puts people first. I quickly grow curious about what it takes to be a top place to work while employing artisans in several countries spread across at least three continents. She talks about visiting India to meet with her employees and discuss new designs, which is done in English—a striking commonality among such radically different cultures. Carly speaks English and Spanish, which means Haiti is the only place Tribe Alive works where she needs a translator to speak with the artisans who turn her designs into finished pieces.
"It's easy to get tempted to grow quickly and say we employ 1,000 people," she says, "but I'd rather employ 100 people well."
Then she talks about the co-op studio that Tribe Alive partners with in Haiti, which at first sounds suspiciously like an office you might find in Silicon Valley or Austin. There's a yoga studio on the roof, along with a rooftop garden and outdoor education center. Before I can wonder internally or out loud if this is really what people in Haiti need, Carly beautifully explains the function of their unique workplace. 
"It's easy to dismiss this as another well-meaning but totally useless addition from an American company hoping to introduce its vision of 'good' in another country, but blood pressure and basic health ailments kill more Haitians each year than the three most prevalent diseases there. Their traditional foods are not very healthy, and as more Haitians find themselves working in office-style environments like ours, the problems are exacerbated." The twice-weekly yoga and rooftop garden which provides employees with a sense of ownership and free access to healthy foods offer simple answers to the same problems we face in America. Then there's the classroom: "We are suddenly paying our employees more than they're used to making and they find themselves with tons of dependents and disposable income but no real knowledge about how to spend it or how to live healthier, better lives." Tribe Alive's partners teach classes on health and money management on the rooftop, which makes this job so much more than a beautiful exchange of time-honored skills and fair wages. 
Even as I'm preparing to write her in on my next presidential ballot, Carly appears pensive. "I always have to check myself against what I think I'm doing. It's so easy to assume that we mean well and want the best for others, but so often, that isn't really the case." I want to emphatically argue that in her case, it definitely is, but before I can speak up, she continues. "Thankfully, I've had a few moments that forced me to really think about how I was going to do something or why I was doing it at all, and I usually seem to find an answer that resonates with what I believe is the right thing to do." Her unwavering commitment to doing things the right way is exactly why we partnered with Tribe Alive to produce our in-house label, Altru Goods.
We meander away from discussing Tribe Alive or CAUSEBOX and begin swapping stories and photos of our dogs and kids and friends. She spies someone she knows locking a bike up out front—and of course, that cyclist is married to someone else I knew growing up in Fort Worth. The crowd of people she waves and speaks to over the course of the morning is both tight-knit and beautifully diverse, which is a theme that pervades her company and the products it makes.
"I'm so grateful to have friends who don't just celebrate me or act like I'm always right because my company is supposed to be doing good. I've been called out for the types of models that I use, for the way I tell my story, had my motives questioned. And I always appreciate that type of thoughtful criticism." 

Over the course of a morning at Avoca, I put faces and names to a handful of Carly's friends and local employees by placing myself amongst the action. But there's a reason you'll never find the faces or names of the artisans crafting Tribe Alive's beautiful products, and it's a good one. "For what we do, for our goal of empowerment, and for the makers responsible, I want the products to speak for themselves. Everyone's story matters, but the end result should tell enough of a story on its own." When it comes to the products she and the whole Tribe Alive team are responsible for, they are unapologetically fashion-forward and deeply respectful of the cultures of her craftsmen and women.  
This sums up our time spent talking in Fort Worth. Beyond the question of a story on Tribe Alive for Good News or hearing more about the latest Altru products, the conversation was a natural extension of what Carly does every day—making new friends, exchanging ideas, and leaving the world at least a little better (and better-dressed) than she found it.