Scentuals All-Natural & Organic Skincare
Mai Mowrey is honest about her background in organic products. She recalls her upbringing and early adult life, "My family and I were on the conventional side. We knew organic and natural products were good for us, but we never actually used them. We used products that were marketed well and that we were aware of. We never looked into organics until my brother got really sick and we were told he had one month to live.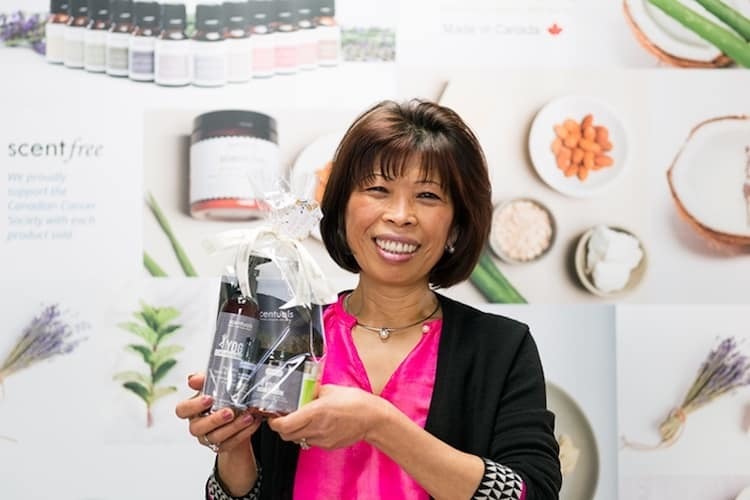 "Before my brother got sick, I worked in the cosmetics industry. I was planning on becoming the sole distributor in Asia for a major Canadian cosmetics brand—but while I was spending three months in the hospital with my brother, I started to pay attention to the ingredients in our food, our medicines, our household products, and discovered that a lot of them were extremely detrimental and potentially cancer-causing."
"So I called the cosmetics company and said, 'Can I see what you do?' because I was learning more about the ingredients that I would be ok putting on my own skin. They asked for a deposit before they showed us anything, and my husband and I didn't feel good about it, so we canceled our contract to work with them."
Mowrey knew she could not remain in the cosmetics industry without changing who she worked with and how she did things. Shortly thereafter, serendipity found her: "One day, I was taking my son to hockey practice and I came across a company selling its factory. The company claimed to produce only 100% natural cosmetics. It really intrigued me, so I phoned them right away and asked if I could come take a look. It was local, and I was ready to head over right away! I still wanted to be in cosmetics, but only natural. Every ingredient in that factory blew my mind—they were able to put each ingredient directly on their lips and faces. I knew from my experience in the cosmetics business, that it was typically not safe to put cosmetic ingredients directly on your skin."
She also recalls her family's reliance on chemical-based skincare due to genetic eczema, "Every month, we went to buy cortisone, and our doctor would write a prescription that the pharmacy would refill. We never thought about what it would do to our skin. It did provide quick relief, but what I learned was, the more we used it for short term relief, the more we were drying out the deeper layers of our skin. So even though there was a quick fix, the issues would always resurface—if anything, we were making the root of the problem worse!"
Inspired by Mai's brother's experience, Scentualspartners with the Canadian Cancer Societyand now gives a percentage of profits directly to cancer research. Mowrey concludes, "It feels so good to use natural, healthy products and also to help other people at the same time."
---
Learn more about Scentuals: