Three Bold (and Color Coordinated) Fall Salads
When we were styling the Fall photoshoot we searched all over the internet for three perfectly color coordinated (and tasty) recipes that would compliment the Badala Kuni Serving Spoons that will be in each Fall Box. We finally picked the following salads from some of our favorite food blogs — and they came out SO well that we had to share them with you. Any one of them will be sure to turn heads at your Labor Day barbecue! 
Garlic Butter Pasta with Spinach and Parmesan
via Naturally Ella
Preparation: 10 min | Cook time: 15 min | Serves: 3-4
Ingredients
6 tablespoons butter
2 cloves garlic
2 sprigs thyme (or rosemary)
2-3 handfuls baby spinach
8 ounces pasta
3/4 cup shredded parmesan
Instructions
In a sauce pan, heat butter over medium-low. Mince garlic and add to pan. Saute for 1, add thyme, and cook for 1 more minute. Add spinach to butter mixture and cook until spinach is wilted.
Bring a pot of water to a boil. Add pasta and cook until tender. Drain and add pasta to spinach mixture. Sprinkle parmesan on top and mix everything together.
Serve with an extra sprinkle of parmesan and thyme.
---------
Avocado Strawberry Caprese
via Oh She Glows
Preparation: 10 min | Cook time: 10 min | Serves: 2
Ingredients
1/3 cup (80 mL) balsamic vinegar
1 cup (135 g) hulled and sliced strawberries
1 cup (160 g) grape or cherry tomatoes, halved
1 medium ripe avocado, pitted and diced
1/3 cup (8 g) loosely packed basil leaves, chiffonade cut
1 1/2 teaspoons extra-virgin olive oil
Pink Himalayan salt or fine sea salt, to taste
Freshly ground black pepper, to taste
Toasted sesame seeds or chopped pecans, for serving
Instructions
In a small saucepan, bring the vinegar to a simmer over medium heat. Once the vinegar starts to simmer, reduce the heat to medium-low, and simmer for 6 to 10 minutes, uncovered, until the vinegar thickens, and reduces in volume by half. Set aside.
Meanwhile, add the strawberries, tomatoes, avocado, and basil into a large shallow bowl.
Drizzle on the oil and gently toss until the veggies are coated. Season generously with salt and pepper and toss again just briefly.
Scatter on your desired amount of toasted seeds or nuts. Drizzle on all of the balsamic reduction.
Serve immediately. This salad is definitely best enjoyed fresh, but leftovers can be stored in an airtight container for a few hours if necessary.
---------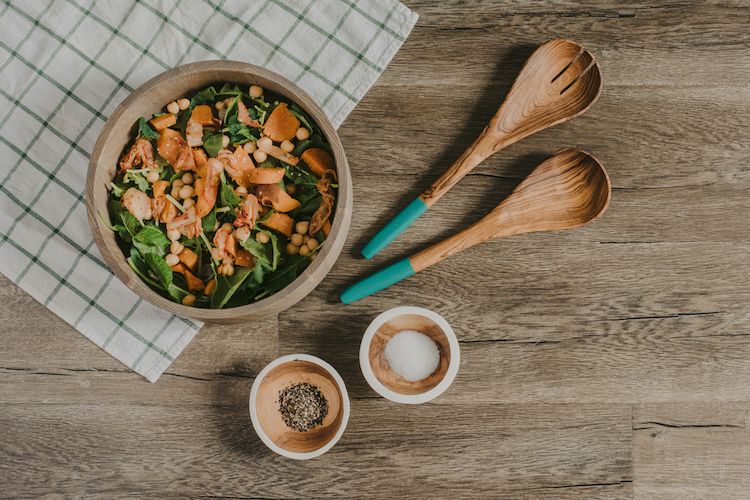 Kimchi Kale Salad
Preparation: 10 min | Cook time: 3 min | Serves: 1-2
Ingredients
5 cups curly kale, chopped
½ avocado
2 tbsp freshly squeezed lemon juice
¼ tsp sea salt
½ cup vegan kimchi
1 cup chickpeas
1 roasted sweet potato (I used a Japanese yam)
3 tbsp toasted pumpkin seeds
dash of fennel seeds and black sesame seeds
Instructions
Place the chopped kale into a large mixing bowl.
Add the avocado, lemon juice, and sea salt.
Using your hands, massage the avocado into the kale until the green are tender (about 2 minutes).
Add the kimchi, chickpeas, sweet potato, and seeds.
Season to taste with more sea salt, and enjoy!