Tribe Alive x Sarah Sherman Samuel
Sarah Sherman Samuel is a multi-talented woman with a distinctive style — from designing individual products to transforming entire homes to raising her children, Sherman brings her creativity and sensibility to everything she touches. Her father is a talented artisan, her older sister studied interior design—which led Sarah to study graphic design to avoid copying her older sister—and her current life combines artisan craftsmanship, pattern and textile design, and large-scale renovation. By combining her personal influences and keen eye for light and texture, Sherman has created one of the most identifiable aesthetics in recent memory. A scroll through her Instagram feed or website reveals geometric designs influenced by sunlight and shadows, gorgeous Mid-Century angles and colors, and a vernacular that translates from her Los Angeles-area home to her family's lakeside cabin in Michigan.
_____________
Sherman has an incredible portfolio of collaborations, partnerships, cover features, and design projects for high end and high profile clientele — including Target, Young Frankk, Sunset Magazine, One Kings Lane, and most recently, a home restoration for Mandy Moore. Her exclusive collaboration with CAUSEBOX is one of a kind, and highlights the style that has made her such a coveted collaborator and designer.
CAUSEBOX partnered with Sherman to design the gorgeous table runner/wall hanging in your Winter Box, and the end result is a design that works with any room palette while being distinctly her own. The journey from idea to proposals to production has been inspiring to behold; it involved amazing women on two continents and ended with us holding one of the first finished products in Sherman's living room for a photoshoot. Her whimsical, welcoming attitude meant thumbtacks were poked into walls and furniture was rearranged without hesitation.
The backstory behind this piece is filled with love, and we hope you continue to add chapters wherever and however you decide to use it. We were honored to connect Sarah's design talents with our artisan friends from Tribe Alive in Jaipur, India to create a modern piece with a timeless, handmade feel in this one-of-a-kind collaboration.
* * *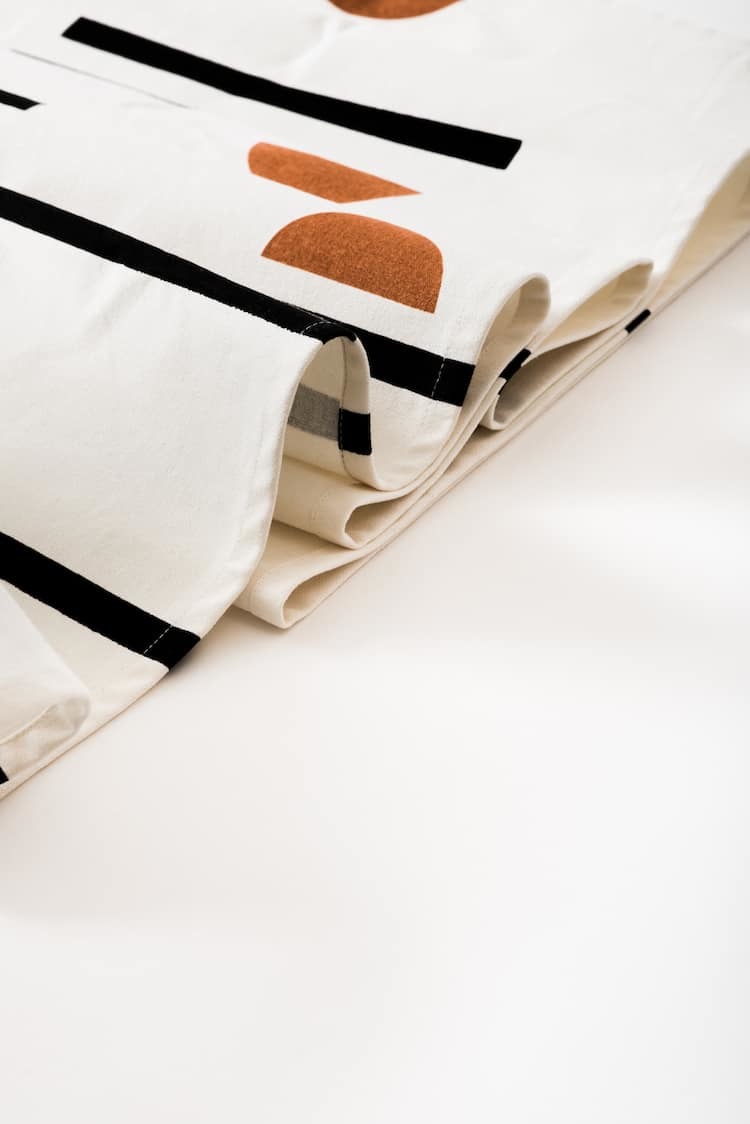 We reach Priti, the head of production for the table runner/wall hanging in Jaipur, via Skype, where her infectious smile and laugh immediately warms the conversation. Before we even have to ask, she explains how Sherman's distinctly modern and elevated minimalism has an impact on every stakeholder along the way. She describes incredulous reactions to the design: "In India, a table runner is covered in intricate patterns, every inch of it. The minimal, geometric design with such a different color palette from what they are accustomed to really changes the ways my team thinks about color and design." She continues, "People in India are used to the products we make here, so they are amazed to find out that other people really appreciate them and view our craftsmanship as something special." In the background of our conversation, the bustle of Jaipur is audible behind Priti's enthusiastic voice. Her boundless energy mingles with the car horns outside.

We all become accustomed to what we have, what we can do, and where we are—the same things we find commonplace, others find amazing and unique. The interaction between a Southern Californian Mid-Century Modernism and traditional Indian craftsmanship highlights how moving and powerful each human touch can be, in the creative process and beyond.
Then she continues, "The biggest thing the artisans are moved by is seeing women in leadership positions. They ask about how we have these orders for several thousand items, and the orders are from Carly (the founder of Tribe Alive). Carly is ordering from me because of women who buy her products or subscribe to CAUSEBOX. That is probably the most life-changing aspect of my work in Jaipur."
The bond between a world-class designer, talented artisans halfway across the world, and CAUSEBOX members is an amazing thing, and nowhere is that beauty or impact more evident than in this table runner.
Learn more about Tribe Alive:
https://tribealive.com/
@tribealive